A tailored approach to developing manufacturing solutions specific to regional communities has been announced today.
The University of Southern Queensland will lead the Sustainable Industry Manufacturing Planning for Long-term Ecosystems (SIMPLE) Hub, focused on developing new products and processes to support regional manufacturing priorities such as waste recycling/upcycling
Member for Groom Garth Hamilton MP, on behalf of Minister for Regional Education Senator Bridget McKenzie, announced the Regional Research Collaboration program funding today (May 18).
$3.35M has been earmarked for the SIMPLE Hub with University of Southern Queensland as project lead and partners Southern Cross University, University of Queensland and West Virginia University, USA.
University of Southern Queensland Vice-Chancellor Professor Geraldine Mackenzie welcomed the announcement.
"This project builds on our research strengths and industry partnerships focused on regional opportunities to enhance manufacturing in a sustainable way, thereby building capacity both for the University and our region," Professor Mackenzie said.
Project lead Associate Professor Polly Burey said regional Australia faced obstacles and opportunities that needed approaches tailored to non-metropolitan settings.
"Manufacturing contributes about six per cent of Australia's GDP, covering a range of industry sectors such as recycling/clean energy, food and beverage, the resource sector and more," Associate Professor Burey said.
External factors such as COVID-19 and extreme weather events have exposed the vulnerability of national and global supply chains that keep the manufacturing industry moving, including getting products to customers (for example, food on grocery shelves or building supplies for the construction industry).
"There is a great deal of work being done in this space but a tailored approach is needed to develop solutions specific to regional communities and build cross-sector industry ecosystems that support new circular economies."
Associate Professor Burey said the SIMPLE Hub would simplify regional research collaboration in manufacturing by bringing a range of initiatives under one umbrella.
"Together with multi-sectoral industries, we can develop new products and processes to support regional manufacturing priorities such as waste recycling/upcycling," Associate Professor Burey said.
"Our current external partners include Oilfield Piping Systems, Darling Downs Health, Jennmar, Impacts Renewable Energy, Venlo, Plungie and Australia Sunlight group, and we also have the Australian Nuclear Science and Technology Organisation (ANSTO) and CSIRO on the advisory committee."
Associate Professor Burey said the SIMPLE Hub would also create a workforce pipeline to support the sector, with a focus on training of industry-ready researchers.
"Ultimately, we want to train and empower the innovators for regional manufacturing industries into the future," she said.
From undergraduates to PhD, postdoctoral researchers and beyond, the program researchers will be supported to develop advanced technical research skills and future career strategy.
"As part of the strategy we will engage with summer research scholars to work on multi-disciplinary research teams and co-locate with industry partners in implementing their research projects."
The Federal Government's Regional Research Collaboration program funds research collaboration between universities, industry and other higher education providers, improving support for regional areas by strengthening rural research capacity.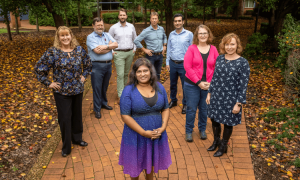 Members of the SIMPLE Hub project team: (front) Associate Professor Polly Burey (Food Science), (back row L to R) Professor Petrea Redmond (Educational Technology), Associate Professor Andreas Helwig (Electro-Mechanical Engineering), Dr Tristan Shelley (Thermoset Composites Manufacturing – Pultrusion), Gary Elks (Civil and Construction Engineering), Dr Ali Mirzaghorbanali (Geotechnical Engineering), Associate Professor Kate Kauter (Biomedical Science) and Associate Professor Eliza Whiteside (Biomedical Science).
-ENDS-
Reference:
https://www.usq.edu.au/news/2021/09/no-waste-recycling-plan
https://www.usq.edu.au/news/2022/05/simple-solution-for-manufacturing
Caption:
• Members of the SIMPLE Hub project team: (front) Associate Professor Polly Burey (Food Science), (back row L to R) Professor Petrea Redmond (Educational Technology), Associate Professor Andreas Helwig (Electro-Mechanical Engineering), Dr Tristan Shelley (Thermoset Composites Manufacturing – Pultrusion), Gary Elks (Civil and Construction Engineering), Dr Ali Mirzaghorbanali (Geotechnical Engineering), Associate Professor Kate Kauter (Biomedical Science) and Associate Professor Eliza Whiteside (Biomedical Science).
• Associate Professor Polly Burey, Vice-Chancellor Professor Geraldine Mackenzie, Member for Groom Garth Hamilton MP and Chancellor John Dornbusch
Media contact:
Rhianwen Whitney, Email: [email protected], Phone: 0427 428 380
Sarah Green, Email: [email protected]; Phone: 0417 799 331